So we noticed that we didn't post too many progress pictures of the bench building like we normally do, so here's a quick behind scenes behind the bench that we made for Thor Espresso Bar!
Sketch: At first we experimented with different ideas on how to prevent "uninvited napping", but in the end we figured that the bench was too short to sleep comfortably.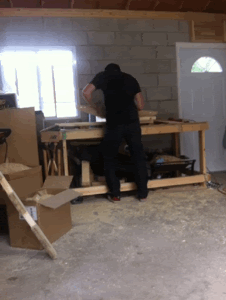 Woodworking: Here's Scott routing away one of the butt-grooves on the bench with his homemade jig. We considered getting it CNC'd (let the robots do all the work), but we wanted to keep the fun for ourselves and went DIY.
Assembly! This was my job. Note, I did not drink all those beers in the garage by myself - or at least I don't remember drinking all those beers. To manage the weight of the solid-looking bench, we hollowed out the middle and put in a few solid poplar cross-braces to hold all the pieces together.
Break time! Speaking of poplar, if anyone is looking for great camping this summer, we highly recommend checking out Cyprus Lake at Bruce Peninsula. We stayed at the Poplar campground a few weeks ago and it was so good.
Finishing: Using an old paint gun from uni, we put several layers of outdoor satin varathane to protect the wood. Spraying gives a finer finish than brushing and makes it easier to sand between coats.
Oh and speaking of coats, Scott's sexy hog on my right is for sale, it was freshly painted over this spring too. Feel free to contact us if you're interested :)
We picked through our wood and tried to put the nicer wood grain pieces on top. We've never worked with poplar before, does anyone know if the dark bluish grain is normal? Or is it a mark of the pine beetle? Either way, we really liked it and wanted to highlight the variable grain markings.
Testing: The bench didn't topple over, test passed!
Stay posted, the Thor patio should be ready real soon! In the meantime, you should swing by and grab one of their homemade popsicles ;)